Posts for tag: wisdom teeth
By Hudson Valley Oral Surgery, PLLC
May 11, 2015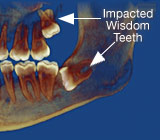 Thinking or knowing you have an impacted wisdom tooth can be alarming news for some people. Unfortunately, one of the main reasons for this feeling is due to the mythology surrounding wisdom teeth...and especially impacted wisdom teeth. While an impacted wisdom tooth can cause intense pain, some people are quite shocked to learn that they even have impacted wisdom teeth, as it is causing no pain at all.
By definition, an impacted wisdom tooth is a third (and last) molar that gets jammed against an adjacent tooth or other important structures such as gum, bone nerves, blood vessels. And having an impacted wisdom tooth does have its consequences — even if you are unaware you have one. The most common issue is gum (periodontal) disease. This is the main reason why it is so important to have a problematic wisdom tooth removed early when you are young and before periodontal disease has started. If left untreated, you risk damaging and/or losing the impacted tooth and adjacent teeth.
The key to managing wisdom teeth is to monitor them closely through thorough routine examinations and x-rays between the ages of 17 and 25, the time when wisdom teeth typically appear. This is so vital because it allows us to predict the way your wisdom teeth will erupt (become visible) or come into proper position with useful biting function. We can use these visits and x-rays to monitor development so that we are best equipped to determine if or when wisdom teeth need to be treated or removed.
It is also important to contact us as soon as you think you may have an impacted wisdom tooth that is causing pain, swelling or even infection. We can put your mind at rest with the facts of what needs to be done after we've completed our exam.
If you feel that you or a family member has an impacted wisdom tooth, contact us today to schedule an appointment to discuss your questions. Or you can learn more now about the symptoms and treatment options of impacted wisdom teeth by continuing to read the Dear Doctor magazine article "Wisdom Teeth."
By Hudson Valley Oral Surgery, PLLC
April 24, 2015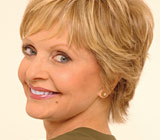 Life lessons are learned in the most surprising places. This is no different for celebrities. Take, for example, Florence Henderson, an actress, singer, philanthropist, author and star of the hit television series, The Brady Bunch. As she told Dear Doctor magazine, her experience with having four impacted wisdom teeth removed — at the same time — "...only made me more aware of how important dental care is." She continued, "This is why I have always gone every six months for a check up."
Another important lesson we want to share is the fact that even if your impacted third molars (wisdom teeth) are not bothering you or causing any pain, you may still need to have them removed.
Why? Having a tooth submerged below the gum, pressing on the roots of other teeth is problematic; the tooth should be removed so that you can avoid major dental problems before they occur. For example, it is not uncommon for us to find an impacted third molar pressing against the roots of the adjacent second molar. Furthermore, because the enamel crown of this impacted tooth is trapped below the gum, we sometimes find an infection, gum disease or even cyst formation occurring.
Often, the best time to remove a wisdom tooth is when it is not causing any problems. This is because a painful wisdom tooth or pain in the area of the wisdom tooth may be a sign that significant damage has occurred or is occurring. It is also better to remove wisdom teeth when you are young, as young healthy people with no prior infections at the site provide the best opportunity for us to remove the tooth with no complications.
To learn more about impacted wisdom teeth, continue reading the Dear Doctor magazine article "Removing Wisdom Teeth." Or if you suspect or already know that you have an impacted wisdom tooth, contact us today to schedule an appointment so that we can conduct a thorough examination that includes x-rays. During this private consultation, we will also address any questions you have as well as your treatment options. And if you want to read the entire article on Florence Henderson, continue reading "Florence Henderson."