Posts for: March, 2015
By Hudson Valley Oral Surgery, PLLC
March 25, 2015
Not long ago, musician, businessman, and actor 50 Cent (AKA Curtis James Jackson III) joined the growing ranks of celebrities (like Demi Moore and LeAnn Rimes) who have sent out tweets from the dental chair. The rapper, who has had extensive cosmetic work done on his teeth, even live-tweeted an action shot of his dentist giving him an oral exam!
Some might consider this too much information — but we're happy whenever people are reminded of the importance of regular dental checkups. In fact, the "routine" dental exam is truly one of the most useful procedures (and one of the best values) in dental care. Let's "examine" some reasons why that's so.
For one thing, coming in to our office when you don't have a specific problem gives us the chance to talk to you about any concerns you may have in regard to your mouth — or your health in general. In fact, many of the questions we ask and the exam procedures we perform give us an opportunity to detect potentially deadly diseases. For example, simply monitoring your blood pressure may identify a risk for heart disease; or an examination of the oral tissues may reveal the first signs of oral cancer. Both conditions are treatable if caught early on.
Of course, at a dental exam we always look closely at your teeth for signs of cavities. We also check your gums for inflammation or bleeding, which could indicate gum disease. X-rays or other diagnostic tests are performed when necessary. Generally, the sooner we can diagnose and treat any problems we may find, the better (and less costly) the outcome tends to be.
A typical checkup also includes a thorough, professional teeth cleaning with specialized tools, performed by our skilled dental hygienists. This not only makes your mouth look and feel sparkly clean — it also removes the built-up hard deposits (called tartar or calculus) that can lead to bad breath or gum disease.
Once the exam and cleaning are done, we have a good idea of the general state of your dental health. We can then give feedback on your oral hygiene techniques, assess your risk for disease, and make recommendations tailored to your individual needs. And we can do all this in about half an hour.
So talk about it, tweet about it — but don't neglect it! Along with regular brushing and flossing, routine dental checkups are the best way for you to maintain good oral hygiene — and prevent future dental problems.
If you would like more information about the benefits of regular dental exams, please contact us or schedule an appointment for a consultation. You can learn more by reading the Dear Doctor magazine article "The Dental Hygiene Visit."
By Hudson Valley Oral Surgery, PLLC
March 10, 2015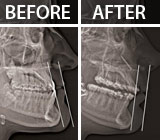 Orthodontics is a specialty of dentistry dedicated to the diagnosis and treatment of misaligned teeth, or malocclusions. The goal is to help patients achieve better long-term oral health by improving teeth alignment. Sometimes, though, the misalignment is much more involved than the position of the teeth — it may be that the jaw structure is also misaligned. In that case, the skills of an oral surgeon may be in order.
The jaws are similar in shape to the arch of a horseshoe, hence the referral to either upper or lower sets of teeth as dental arches. In a normal jaw structure, the lower arch fits just inside the upper arch when you bite down and the teeth are able to function correctly. In some individuals, though, the lower arch closes in front of the upper arch, commonly known as an underbite. If the underbite is only slight, the malocclusion can be corrected by repositioning the teeth only, as with braces. If, though, the underbite is more severe it would require a surgical procedure to realign the jaws, also known as orthognathic surgery.
Orthognathic surgery can help relieve a number of functional complications caused by jaw-related malocclusions: difficulty chewing and swallowing; chronic jaw or head pain; or sleep apnea. It can also enhance the patient's facial appearance by correcting an imbalance between the two lateral sides (asymmetry), or by minimizing a receding chin or protruding jaw.
Its primary benefit, though, is its effect on the patient's bite and tooth alignment. For this purpose, the orthodontist and oral surgeon work together to achieve the best result possible. In some cases, the orthodontist may perform his or her work first by moving teeth into the proper position. This sets the stage for the oral surgeon to perform orthognathic surgery to complete the correction of the misalignment.
Each individual patient's case is different — the best plan of action must begin with a full examination by an orthodontist, and a consultation with an oral surgeon if necessary. It may require time and the expertise of two specialties, but the final result will be better health and a better look.
If you would like more information on various orthodontic procedures, please contact us or schedule an appointment for a consultation. You can also learn more about this topic by reading the Dear Doctor magazine article "Jaw Surgery & Orthodontics."